Fashion, function, comfort…these are all the things I look for in a diaper bag. In this House of Bortori Review we review the Amara Shoulder Bag…does this diaper bag have everything baby and parent needs to make life easier?…PLUS a #Giveaway below you will not want to miss!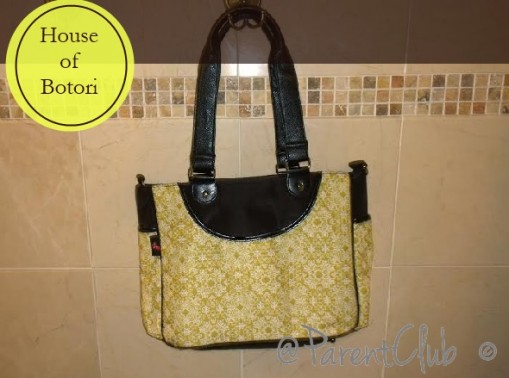 House of Botori was born from the desire to bring bright, bold patterns to chic and style-lovin' moms and babies everywhere. We're setting the fashion bar just a little higher, but keeping it well within your reach. Our high-quality and affordable gear is designed to get you through your busy days with class, sass and panache.
The first takeaway you need to have in this House of Botori Review is what you'll find inside the bag: Baby Zone and Mom Zone. Unlike other diaper bags – the House of Botori has taken into account that parents and kids require seperate and organized sections in a diaper bag. This is a fantastic feature.
The Amara Shoulder Bag
With eleven compartments this bag is organized. In the Mom Zone you will find a zippered pocket for valuables. Key fob, 2 wide expandable pockets for cell phone and other necessities.  And 2 pen pockets. In the Baby Zone you will find 2 extra wide bottle pockets (insulated with eco-friendly PEVA and fits multiple bottle sizes). Alson with 2 extra large pockets for diapers and wipes and a very roomy middle area of bag for change of clothes, toys, blankets and more.
The Amara Shoulder Bag is fully zippered (so nothing will topple out) and comes with tote handles as well as a long shoulder strap (allowing you to carry it as a tote or messenger style or sling).
The Amara Should Bag also comes with (and all matching the vibrate fabric of the bag): an insulated bottle holder (great for keeping water cool!), change pad, wet clothes bag, and mini pouch (great for soothers). It also has four feet at the base.
Of all the reviews I have done…this House of Botori Review probably had the most work…no only was it tested for a day at the park…it was tested as on a family vacation…
That's me and the House of Botori bag in France. If you have ever taken a diaper bag on a plane and then on vacation – you know the kind of testing it went through. It had to be the diaper bag, Mom tote, snack bag, change of clothes bag, activity bag, and purse all in one. And my findings?…
GREAT DIAPER BAG.
Very comfortable to carry (and that is #1 when I look at reviews). The pockets kept everything organized and within arms-reach (I used the magnet pockets to keep small toys handy for the "I'm tired" kid meltdowns).  I wore it both as a tote and messenger style (and I add: Papa also carried it messenger style; proving this is a solid Dad bag). The colour was netural enough to go with any outfit. Recommend!
GIVEAWAY
Enter for a chance to win Eneehi nursing clutch (colour choice at discretion of House of Botori). This clutch opens into a nursing cover; providing privacy and comfort to both you and nursing baby. This giveaway is open to residents of Canada, excluding Quebec. Also open to residents of the U.S., excluding Alaska, Puerto Rico, Western Territories and Hawaii. 18 yrs and older.