Some products just "click" with your family. This this the true story of how much my kids like Nature's Path Envirokidz Gorilla Munch cereal…and why I as a Mom choose to buy it…and oh…a little Nature's Path EnviroKidz Cereal #Giveaway to make your breakfast and snack time a little easier…
Why I buy EnviorKidz…
My kids aren't big cereal eaters for breakfast…but they are HUGE cereal eaters for snacks (they eat it dry – like popcorn – probably a habit I built during our many car rides as I always found dry cereal an easy snack to pack).
I discovered  Nature's Path EnviroKidz cereal  while I was searching for a new cereal to try several years ago (I was specifically looking for cereal which did not have "refined sugar" in the ingredient list). Nature's Path EnviroKidz cereal is Certified Gluten-Free, Certified Canada Organic, Verified Non-GMO (Non Genetically Modified Organism)…all of which impacts our health and food systems.  No additives. No preservatives. Just organic, real food, ingredients. Oh, and it's has granulated sugar cane juice NOT refined sugar. #WIN.
The Nature's Path Envirokiz box was then…and is still now…a huge hit in our house. The back of the box has a fun quiz and facts about animals. I don't buy products based on packaging…but I think taking advantage of box space to share added-value learning is smart. Nature's Path EnviroKidz cereal boxes offer intelligent and engaging activities on their packaging as well as presenting a great "teachable moment" opportunity for kids to learn about the habitats, animals, and the world around them.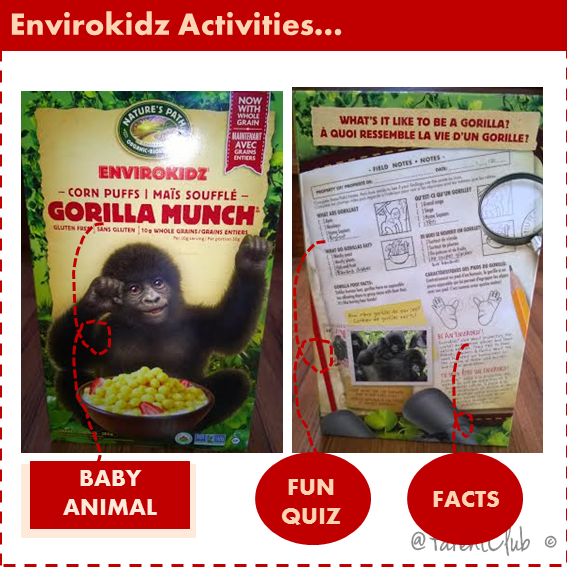 My kids like to eat it by the handful. They count it. They sort it. Truly, a favourite in our house.
Nature's Path EnviroKidz makes delicious organic options that the whole family can feel good about. Kids love the yum factor and fun animals on the boxes, and moms love it because they're certified organic, non-GMO, gluten-free, whole grain, and made without toxic pesticides and artificial flavours or colours.

Because EnviroKidz is a 1% For the Planet member, every time you buy one of our EnviroKidz products, 1% of the sales are donated to support endangered species, habitat conservation and environmental education for kids worldwide. As a 1% for the Planet member, to date Nature's Path Envirokidz has raised over $1.6 million to help our partnering organizations with their educational and protection efforts.

Specifically, EnviroKidz Choco Chimps Cereal supports The Jane Goodall Institute, global leaders in chimpanzee protection, andEnviroKidz Jungle Munch Cereal supports Fauna & Flora International, acclaimed heroes in Sumatra elephant conservation.
WIN!
Just in time for Earth Day, Nature's Path EnviroKidz has introduced two new whole grain cereals, including chocolate Choco Chimps Cereal, and cinnamon Jungle Munch Cereal. Your family could be one of the first to try them by winning this EnviroKidz prize pack full of organic cereal and bars, valued at $100! This giveaway is open to residents of the U.S. and Canada, excluding Quebec.