I do not talk, blog, or parent about diets. I wrote about why – in the post Mom's weight, eating and body image (it's pretty personal). I have body issues, food issues, issues out-of-my-control…and I own that. However, when my girls started imitating my eating choices I realized I had to make a real effort to live with a healthy balance.
Which is why…when I received an email  communicating "Multi-Grain Cheerios has launched "Generation Healthy", a program aimed at encouraging women to recognize their self-worth and become part of the solution as a role model living a healthy, balanced lifestyle"…I responded YES!…because for me…for my girls…I want to share a world without dieting. TEASER: #Giveaway below to encourage you to take the oath to a world without dieting too!
Infographic stats according to a recent survey commissioned by Multi-Grain Cheerios examining young women ages 10-17
True story: tween daughter asks (often) "Am I fat? Should I go on a diet?"
See my issue with "diets"?!!! Why does a healthy, beautiful, active, healthy 10 year old feel the need to ask if she requires a diet?! Obviously, the answer is the messaging she receives from ads, T.V., pop culture. And I am ready to battle against those messages. It's time for a new key phrase…A World Without Dieting.
I encourage my girls (and myself) to live with healthy balance. Eat well (starting with a healthy breakfast everyday). Stay active (walk, play, karate). Manage stress (we talk about our days at our sit-down-family-dinner every night). Have a set schedule (school, homework, chores) and break the routine with fun activities (reading, movies, music, play dates). This is how we live with healthy balance.
I am proud to say I took the "Never Say Dieting Oath" this morning and here is my badge for proof…
What is the Never Say Dieting Oath?
To help create a world without dieting, Multi-Grain Cheerios is encouraging Canadians to take the first step in being a positive, healthy role model by taking the "Never Say Dieting Oath" at WorldWithoutDieting.ca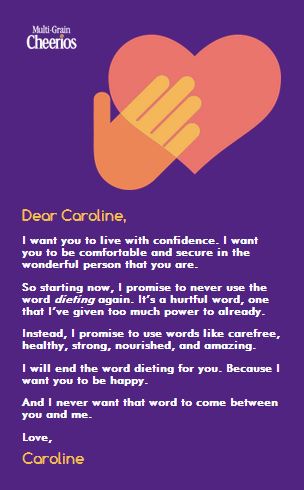 The Oath is simple. It's a click. Yet, it is a promise to yourself and the ones you love to help promote good role modeling and a healthy balanced lifestyle. And yes, authentically chez moi, we do eat Multi-Grain Cheerios as part of that lifestyle (they make family breakfast and toddler snack time easier!)
WIN!
Enter for a chance to win a $100 Loblaws gift card and vouchers for Multi-Grain Cheerios – that would make living a healthy balanced lifestyle easier wouldn't it?! This giveaway is open to residents of Canada, excluding Quebec. 18+yrs. End date: Thurs. March 6, 2014.
Please use the rafflecopter form below for entry.
a Rafflecopter giveaway

Disclosure: #spon and we truly do eat Multi-Grain Cheerios at breakfast. As always, the opinions on this post are my own.